I was fortunate this year to have travelled to a few new places and tried new foods. I would love to share some of my best foodie moments with you.
10. Chocolate gnocchi
Because chocolate is my love language…I tried this pasta creation, while exploring Borough Market. This 'market' is foodie heaven, if you're ever in London and have some time to spend wandering around, trying new foods and new twists on old favourites…this is one you won't want to miss.
9. Red curry and egg fried rice
I love a good curry. But in my experience up until April this year…I have only ever had yellow curry. So it was a culinary wonder to try green curry and red curry. Thai food is amazing!
8. Venison burger
Oh the wonders of Borough Market again. This premium venison burger created with meat sourced from the Highlands of Scotland was accompanied by a slice of Gouda cheese, bacon jam (my first time trying such fare) and red onion relish, all contained in a sturdy brioche. Whoa! I savoured every bite of this hearty lunch!
7. Avocado Toast
Now I have always been a fan of avocado or zaboca as they are called in Trinidad. Add two siblings who hated it and my mother and I pretty much went halfsies when we had avocado on the menu. I thought I had it every possible way – as a side for lunch, with breakfast, in a salad, in dips, in a smoothie, soups, I even had it in chocolate chip cookies. But I never had it quite like this. You see this avo-toast at Chelsea Market was a game-changer. I'm talking, every avocado I've gotten since that morning has been used to dress up toast in this simple yet fahncy way. What makes it so special: The cumin salt and that drizzle of olive oil. Next level business right thurrr! That cumin or geera as we call it in Trinidad is the shizznit!
6. Chicken Soup – Cuban style
For the past three years I opted out of Trinidad Carnival (unheard of in some circles but I've been bored with the Carnival scene recently) for a week of relaxation in Miami. This year was no different…except I was sick like a dog. I had all these self-guided  food tours and shopping trips planned for my bestie and I, but only made it to El Pub Restuarant in Little Havana and one other spot. Because I had the flu and couldn't get medication from the pharmacy *because I needed a prescription to get freaking advil…thanks meth heads* I made sure to eat well. This soup made it all better. That wedge of lime…made all the difference.
5. Dark Treacle Tart
I read about treacle tarts in storybooks as a child, not really knowing what it was but understanding that if it was in my storybooks…it had to be good. As I got older, I forgot all about the magic tree and the treacle that could be found in the worlds at the top. Until I was in a restaurant in Covent Garden and there it was on the dessert menu: Dark Treacle Tart. I just had to try it, if only to finally satisfy the little girl bookworm with a fantastic imagination still inside me.  She was not disappointed.
4. Homemade Tiramisu

Ya'll know this list would not be complete without Tiramisu! I've already shared here just how much I love Tiramisu…but when it's your "Welcome to Bristol. I made this especially for you from scratch with Marsala wine too" gift…you feel extra, extra special and loved. I have the best friends.
3. Scotch Eggs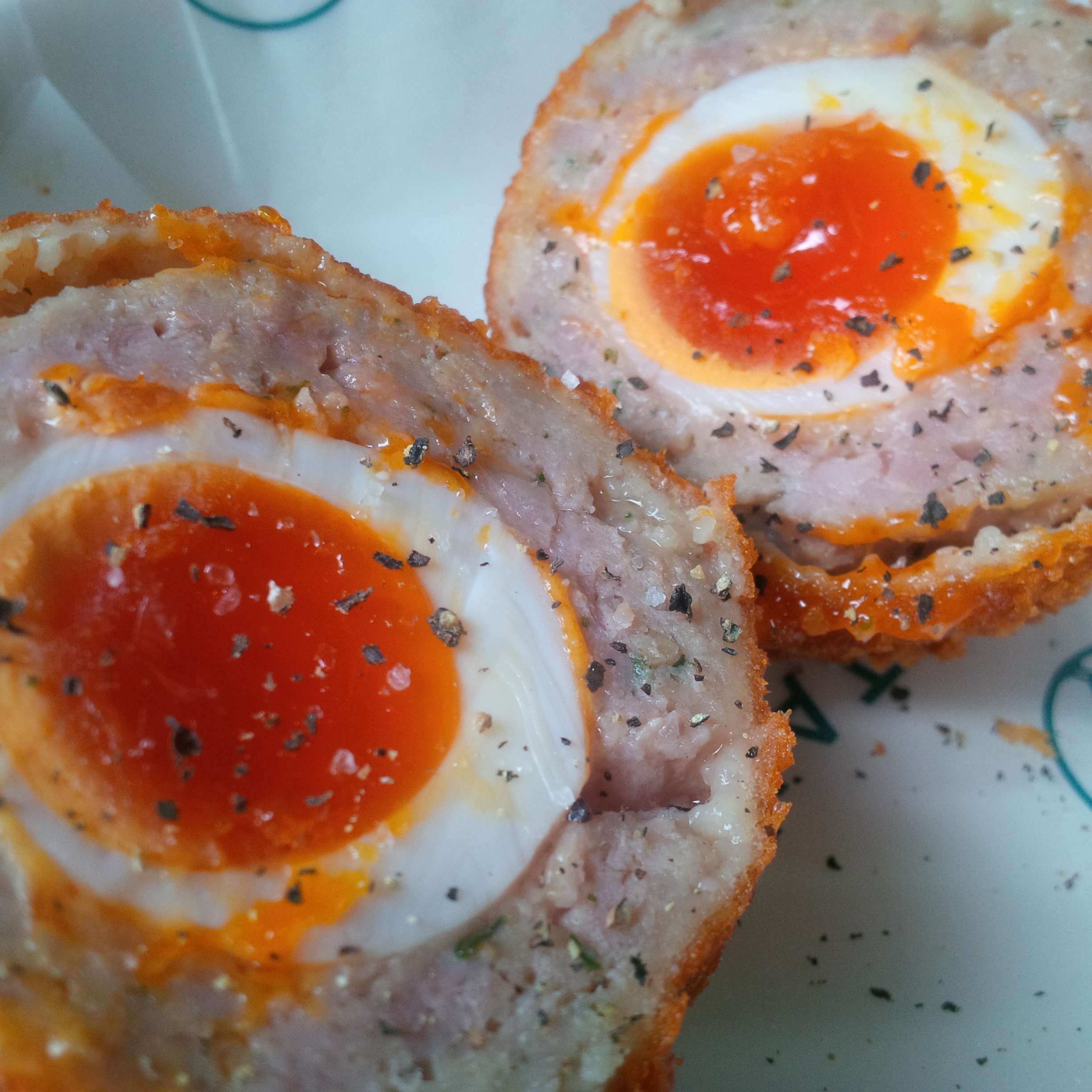 Another Borough Market food find – Scotchtails scotch eggs. This little morsel has been around since 1738 and has certainly stood the test of time. And I can definitely see why…that yummy yolk and flavourful pork was really saying something.
2. Cream Tea Perfection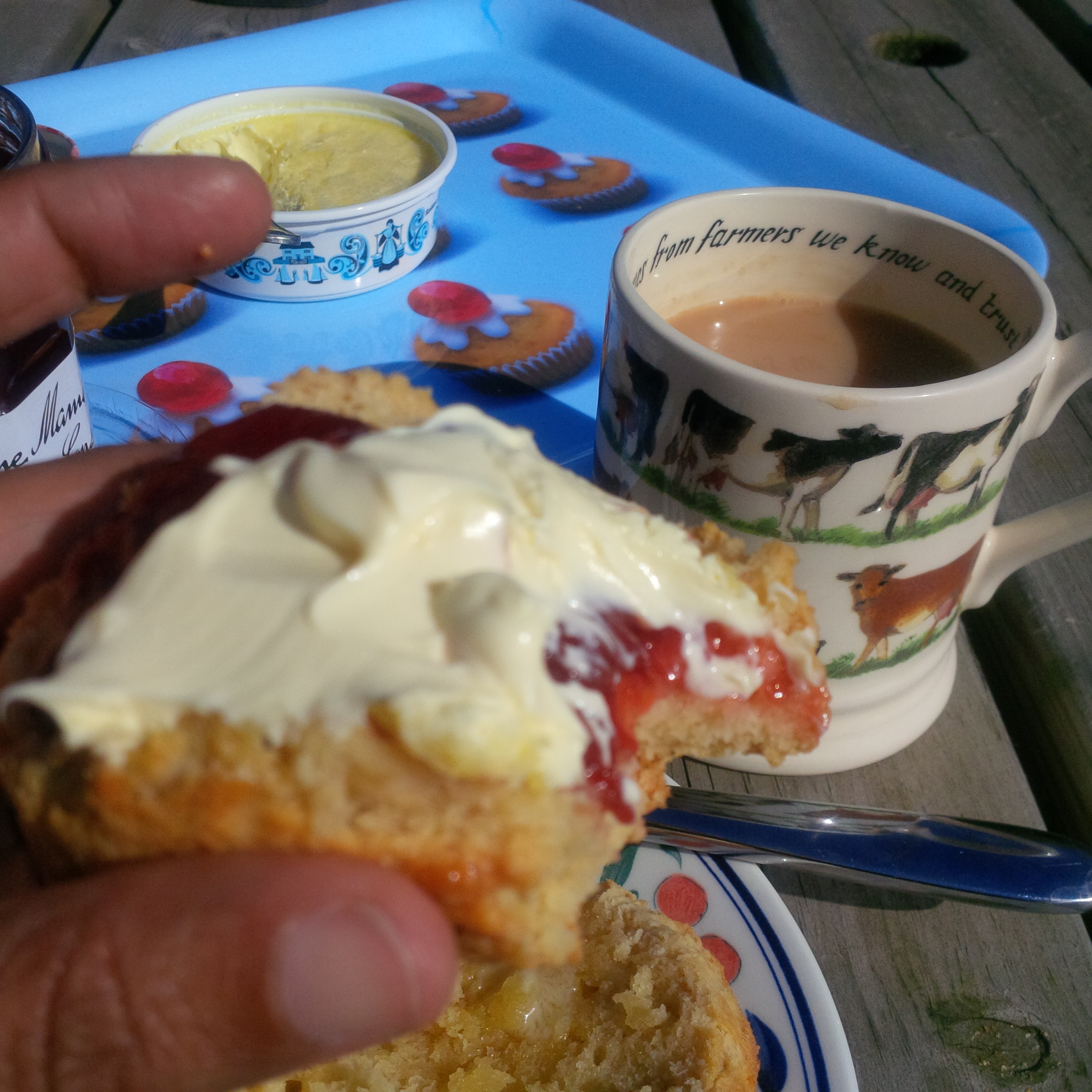 Perfect was the only way to describe this day and this treat. After exploring Wells in Somerset with all its 800 year-old history, my friend and I picked up all the makings for a cream tea at the market: freshly baked scones, strawberry jam and clotted cream. We then made our way to the farm she grew up on…think rolling hills and lazy cattle not unlike a trip to Pemberley *nod to my book nerds* there were pheasants about as well. The cloudless sky was a bit deceiving because even though the sun was out…it was still cold. That didn't stop us from taking advantage of the beauty all around and having our cream tea in the garden with the farm house and rolling hills as our backdrop. Perfect…doesn't seem adequate…but it will do.
1. Kanom Krok

My favourite dish for 2015 is vegan. Yup…vegan after all the meat that came before. Kanom Krok – which is also the name of the food stall where it is sold – is market food at its best. This was my absolute favourite food find at Borough Market. These little moreish bits of heaven are made from ground jasmine rice and coconut milk. The mixture is then poured into dimpled cast iron pans. Toppings can vary but I had sesame seeds with mine.
The mixture is cooked until crispy golden brown on the bottom but almost custard-like on the top. It was delicious and delivered a rather satisfying YUM!
Now because I spent of most of that day exploring the Market and having many small bites (and in some cases rather large ones), by the time the lunch crowd cleared I was a bit full. The serving is double what you see in my photo. So I ended up sharing the other half with a fellow tourist – a Dutch teacher on a field trip with her art class. She said the Thai treats reminded her of her native pancakes called Poffertjes (poh-frah-ggers). Food really brings people together and I was able to learn about two cultures and the similarities of both. Full of Win!  
Happy Tummy. Plenty memories. Most of the good ones had a lot to do with the people I shared the meal with as well as the absolute yumminess of the food.  I love hearing from you….what's the best thing you ate this year?  Please share below!